Kitchen Accessories
I love to cook. In fact, when I'm not in the wood shop, my second home is the kitchen.
Nothing makes cooking more enjoyable than having the right tools. Just like in the shop,
I use every kitchen accessory featured on this page, and quite a few of them are the second, third or fourth modification, changes I made until I felt they were completely right. I know you will enjoy them as much as I do!
Spurtles - YES!! WE HAVE SPURTLES! This is by far the best all round kitchen utensil you'll ever use. The spurtle will become your "go to" every time in the kitchen. How does it work? The straight bottom edge is used from scraping the sides of pots, while the small curve gets in the bottom. The larger front curve works inside frying pans and bowls, while the top curve is used to draining liquids from pots while keeping food inside. Best of all, the front is tapered for use as a spatula/flipper. Because it is made of wood, it won't scratch your non-stick cookware. If you have more than one cook in the family, you'd better buy two! Available in maple, cherry and walnut.
Herb Strippers - Simple yet effective, these make stripping the leaves off basil, rosemary, thyme, etc. a breeze. With six different sized holes, just pick the one that matches the stem size of your herbs, and pull it through! A scraper on the narrow end also makes short work of scraping seeds from melons and squash.
Pizza/Pie Lifters - Made from solid cherry, these are perfect for serving. We are proud to supply these lifters to Dillon's Woodfired Pizza in Midland and Zio's Italian Restaurant in Barrie
Pastry tampers - This amazing tool is great for tamping down pastry in tart tins, pies and graham cracker crusts. It also excels at crushing spices, cookies, crackers and nuts. 7-8" long, 1.5" in diameter at one end and 1.25" on the other. Also individually crafted!
Oven rack sticks - at 15" long, these are used for pulling out/pushing in your hot oven racks. Excellent for avoiding those little crescent-shaped arm burns!
Barbecue scrapers - 20" long (keeping your hands well away from the hot bbq), and 4" wide, these scrapers are made from solid oak with a comfortable "T" handle. The perfect solution for getting rid of those nasty (and possibly dangerous) wire brushes.
Wooden Spoons - These 13" spoons are available in limited quantities and all are hand carved. Vastly superior to cheap, mass-produced wooden spoons, these are a pleasure to use.
Pasta Measures - When you need just the right amount of pasta, these measures are just the trick. Never worry again about cooking too much or too little! Plus they're way classier that those plastic ones.
"Bear Claw" Salad Servers - Why struggle with long handled servers? Thesegive you greater control, and reduces the chance of your lettuce landing in your drink. (also easier to snag the croutons!)
Honey dippers - 8" long, these will get to the bottom of the deepest honey jar. Better than a spoon, and way cooler looking!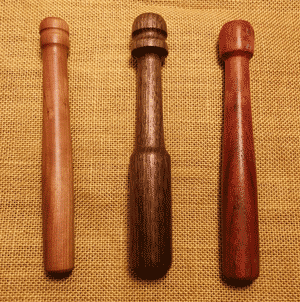 Muddlers - Step up your drink making experience! Whether crushing mint for mohitos or crushing spices for other drinks, these are a pleasure to use.
Cream Cheese/Butter Spreaders - These hand shaped spreaders make it easy to top bagels, toast and crackers with your fave spread. Available in select hardwoods.
Cheese Knives - These hardwood knives are sharp enough to cut most of your favourite cheeses, and look great doing it! Made of select hardwoods, including maple, cherry, and walnut.
Toaster Tongs - Made from maple and walnut, these tongs are great for getting that elusive breakfast out of the toaster, or you can even use them for serving. A built-in powerful rare earth magnet keeps them handy and ready to use,
French Rolling Pin - Preferred by professional chefs, these rolling pins are 16" long and tapered at both ends for maneuverability. Made from walnut or cherry, these slightly more open pored woods hold flour better than maple. We will also make them in custom lengths up to 24" long!
Scottish Spurtles - Used in Scotland for centuries for stirring porridge or oatmeal, these stirrers are excellent for thick sauces, stews and hot cereals. While simple looking, you really have to try one to appreciate it!
Bottle Openers - Stylish and functional, these openers look great in the kichen, on your bar or out on the deck!
Paper Towel Holders - Made from oak and walnut, these are a warm alternative to cold steel holders.